Cambodia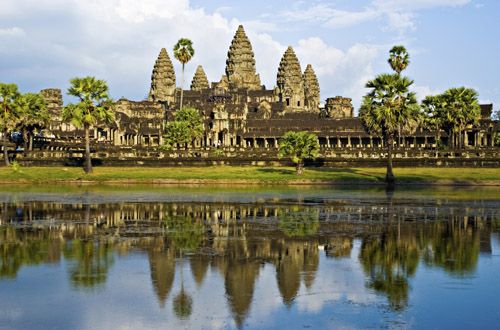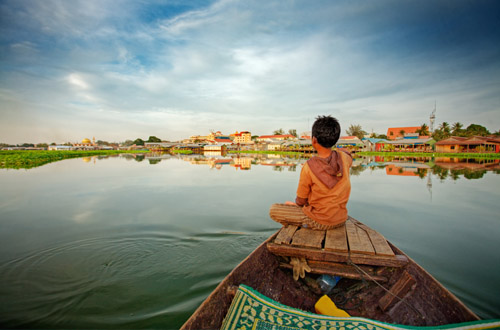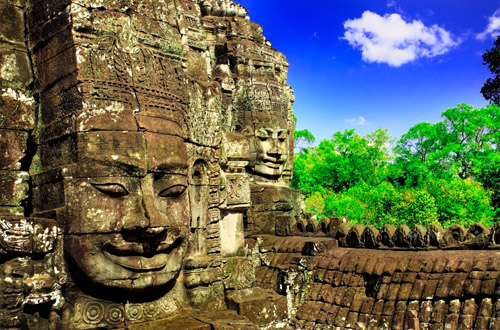 Introduction
In spite of being the home of the World-renowned Angkor Temple complex, which is perhaps the biggest international crowd-puller in the country, Cambodia is also a haven for the off-the-beat traveller looking for alternative retreats and a sense of romance and adventure. Everything in the country is influenced to some extent by the Mekong river, which cuts a swathe through the country, from neighbouring Laos down to Vietnam. Cambodia has suffered much in its recent past, more than most people could ever comprehend, but a new promise and excitement fills the air and it is visible all over. The capital of Phnom Penh once again shows off its beautiful French-colonial heritage with pride as does the once small and sleepy but now booming settlement of Siem Reap which acts as the principal gateway to the A ngkor Temples complex which lies just 7 kilometres to the north. Traditional pastimes and an ancient way of life still exist in the hilly northeast, whilst new hotel and resort developments are constantly emerging in the coastal area and the islands around Sihanoukville. The Angkor Temples themselves are in danger of being overrun and thankfully steps are being taken to limit access to its timeless artefacts, which in itself provides all the impetus required to explore elsewhere and enjoy all of the other things that this magnificent country as to offer.
Places to Visit
Siem Reap - Cambodia\'s most visited settlement and gateway to the Angkor Temple complex, Siem Reap is growing fast and caters for an international clientele offering a number of world class restaurants, hotels and resorts, from boutique to ultra modern. Well adorned with art shops and cafes, tree lined boulevards, and intriguing shop-houses, Siem Reap retains its small town charm and appeal and provides a welcome and safe haven for the numerous temple visitors.
Phnom Penh - The capital city of Phnom Penh combines graceful river front terraces and colonial architecture with a deeply fascinating history. The city is evolving into a modern metropolis replete with urban attractions. Tradition exists side-by-side with contemporary additions creating an eclectic and attractive environment. Situated at the confluence of the Tonle Sap, Mekong and Bassac rivers, Phnom Penh is ever-popular as a book-end stopover at the start or end of a journey through Cambodia. Its location paves the way for an almost endless selection of exciting cruising and touring options.
The Temples of Angkor - The temples of Angkor are amongst the World\'s outstanding architectural treasures. Best known for the Angkor Wat complex, the symbol of Cambodia, the temples are a source of national pride to all Khmers. The many structures which survive today cover hundreds of square kilometres. They represent just a small part of a regional metropolis and former capital of over one million people, the social and political centre of a vast empire which once stretched from Burma to Vietnam.
Getting to and Travelling around
Cambodia has international airports at Phnom Penh and Siem Reap. We have various flight carriers available including Thai Airways International, Air France and Malaysian Airways to Phnom Penh, and Singapore Airlines into Siem Reap. Please contact us for flight options and prices.
Urban transportation includes taxi services and tuk-tuk.
Best Time and Weather
The Cambodian climate is Tropical and humid. May to October is the rainy season with strong winds and cloudy, humid conditions. The heaviest falls are in September and October. The dry season is from November to April with clear days and cooler weather to the end of February. The hot season is from March to May with temperatures up to 40ºC. The best time to visit is between November and February, particularly if visiting the Angkor temples.
Important Information
Language(s)
Khmer is the official language, although Chinese and Vietnamese are also spoken.
Passports
British passport holders must have a passport valid for six months and a tourist or business visa, which can be obtained on arrival at a nominal charge in US dollars for stays up to one month. An e-visa is also available online at www.cambodianembassy.org.uk. For further information please contact the Royal Embassy of Cambodia.
Health - Yellow fever immunisation essential if arriving from an infected area.Precautions against hepatitis A, hepatitis B, typhoid, dengue fever, Japanese encephylitis, polio and malaria are advisable and vary dependent upon extent of travel arrangements. Please consult your GP for up to date information.
Currency
The local currency is the Riel. US dollars are widely accepted although torn notes are not accepted. Major credit cards accepted only in selected restaurants, banks and major hotels. ATM facilities are available in Phnom Penh. Travellers cheques are not recommended.
Time