Canada Self Drive Tours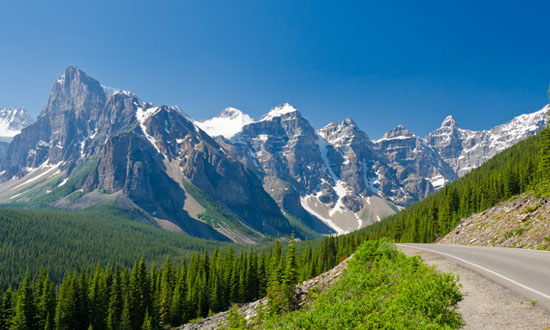 Introduction
"Experience North America at your leisure" with freedom to choose holidays.
Experience North America on your own terms! Travelpack has prepared a selection of "Self-Drive" holidays throughout  the USA and Canada for you to choose from. The great thing about these itineraries is that you are in control of your tour – YOU choose when to start the day, where to go, where and when to stop and how long you want to stop for and there is no need to worry about trying to book into accommodation as you travel (especially during the summer months in the National Parks where accommodation is at a premium) – we do it for you before you even leave the U.K.
All of our pre-arranged itineraries offer a complete holiday service using quality hotels. You will also receive comprehensive documentation, including day-by-day itineraries, with driving instructions and discount coupons for local attractions. It couldn't be easier!
Inclusions
Price includes on all pre-arranged and flexible itineraries
• Welcome kit that includes a comprehensive itinerary, driving instructions, driving distances, sights to see and suggestions on where to stop
and dine.
• Hotel accommodation as specified
• Hotel Sales Tax
• GST where applicable
Exclusions
Not included
Unless stated – attractions, car hire, flights, ferry charges, park fees.
For the latest airfares contact your Travel Agent or check our website
Car Hire - check our live Car Hire Price here
Flights & Car Hire
In order to offer the very best car rental prices we have only featured guideline prices, for up to date prices check with your Travel Agent or on our website. 
FREEDOM to choose is yours, simply pick the car that suits your budget, party size and route and yo are ready to hit the road. 
Other Information
Flexibility
All our itineraries are flexible. You can add or subtract days in a particular location, change your hotel, add excursions, native experiences, guided
adventure packages or city and resort experiences making the itinerary one that suits your needs. If however, you want something completely different then we can put together an itinerary of your own choice – just call your Travel Agent for more information.
On some of our regular itineraries you can add on a half day or full day adventure excursion for those of you who want a more active holiday. Where possible we have given the option to add activities. If you don't see an itinerary that fits into your requirements do check out our web site for a full list of all our self-drive options. 
Children
In itineraries where activity, entrance, transportation, meals or attractions are included, certain age and/or weight limitations may apply to children. 
National Park Fees
Please be advised that all visitors to Canadian National Parks are required to purchase a National Park Visitor Pass. Unless stated in the itinerary as 'included' the Pass may be purchased at the park entrance gate or in the nearest urban centre. Park fees are approximately CAD$10.00 per person per day or CAD$20.00 for a family group – you can purchase an annual discovery pass to cover 27 National Parks and 77 National Monuments for approximately CAD$70.00 per person or CAD$140.00 per family group. Fees also apply to US National Parks and are generally paid at the park entrance – although an annual park pass is available for approximately $80.00 which gives access to up to 2000 Federal facilities.
N.B. All itineraries are subject to change with or without prior notice due to operational or climatic conditions. Full itineraries are available on request plus many more that we do not have the space to feature – just ask!