Scenic Himachal Pradesh and Sacred Amritsar
Scenic Himachal Pradesh and Sacred Amritsar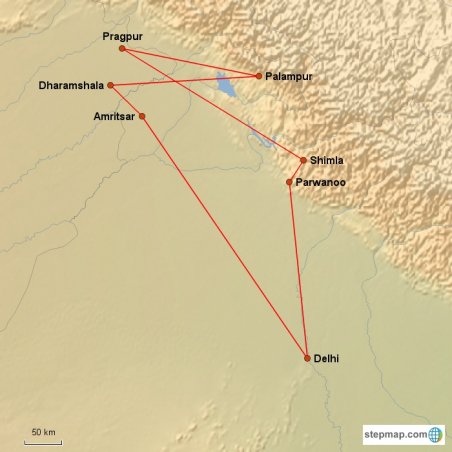 This tour takes you to the beautiful hill state of Himachal Pradesh to experience the gracious living in a palace and country manor. The ambience of a heritage village at Pragpur, tea gardens of Palampur and Dharmasala the home of Dalai Lama and the exiled Tibetan Government. Complete the tour in Amritsar -the sacred city of the Punjab with its spectacular Golden Temple.
Day 1: Arrive Delhi.
Upon arrival at the airport, you will be met and transferred to your hotel.
Day 2: Delhi.
Full day sightseeing tour of Delhi. Explore the Qutab Complex which houses India's biggest single tower Qutab Minar and the 4th century rust free Iron Pillar; Mughal citadel named Lal Qila (Red Fort); and Lutyens Delhi. Also, visit the grand Jama Masjid and Humayan's Tomb – the only monument ever built by a lady in memory of her beloved husband.
Day 3: Delhi to Parwanoo 268 Km/5hrs 30mins.
Drive to Parwanoo for an overnight stay. En route visit the beautifully laid out Mughal Gardens at Pinjore.
Day 4: Parwanoo Shimla via Kalka, by train.
Early morning transfer to Kalka railway station to connect the Shivalik Express at 0530 Hrs (5 hrs), the narrowgauge train which takes you through 102 tunnels, many arched bridges and several picturesque stations on its 96 Km journey. Upon arrival at Shimla (Alt. 2213m) transfer to your hotel for a 3 nts stay. Rest of the day at leisure.
Day 5-6: Shimla.
Shimla's ambience attracted the British in such measure that it seemed justifiable to shift the complete administration of an Empire from Calcutta for its colonial charm. Morning sightseeing tour of the famous Mall, Vice Regal Lodge, and Himachal State museum.
Day 7: Shimla to Pragpur, 195 Km/5hrs 30 mins.
Drive to Pragpur and arrive at the Judges Court – a heritage Manor House offering magnificent views of the snowcapped mountain peaks. Rest of the day at leisure.
Day 8: Pragpur.
Visit the twin heritage villages of Garli and Pragpur. It offers an ideal location for village tourism offering many heritage structures, some as old as 250 years.
Day 9: Pragpur to Palampur, 65 Km/2hrs.
Drive to Palampur, en route visiting the Kangra fort strategically positioned overlooking the Ban Ganga and Manjhi rivers. Located at the foot of Dhauladhar Mountains at an altitude of 3400 feet and surrounded by the tea gardens of Kangra Valley.
Day 10: Palampur.
This morning's sightseeing includes the Bundla Chasm, Shobha Singh Art Gallery at Andretta Village, Tashijong Monastery, and the beautifully sculpted Baijnath Temple.
Afternoon at leisure.
Day 11: Palampur to Dharamshala, 70 Km/2 hrs.
Drive to Dharamshala. During the afternoon visit McLeodganj – upper Dharamsala housing the exiled government of Tibet headed by its spiritual leader – H.H. The Dalai Lama.
Day 12: Dharamsala to Amritsar, 260 Km/7 hrs.
Drive to Amritsar. Upon arrival check in at your hotel. Late evening visit Golden Temple – the spiritual & temporal place of Sikh religion. Overnight stay.
Day 13: Amritsar to Delhi, by train.
Morning sightseeing tour of Amritsar including the Golden Temple and the Jallianwala Bagh. Late afternoon transfer to Amritsar Railway station to board the Shatabdi Express train for Delhi. Upon arrival in Delhi transfer to hotel. Overnight stay.
Day 14: Delhi.
Day at leisure. (Optional same day return excursion to Agra is possible at an extra cost). Overnight stay.
Day 15: Delhi.
Transfer to the airport to board flight for onward journey.
Delhi - Metropolitan Hotel
Parwanoo - Timber Trail Resort
Shimla - Clarkes Hotel
Pragpur - Judges Court
Palampur - Taragarh Palace
Dharamsala - Grace Cottage
Amritsar - Ramada Hotel