Vietnam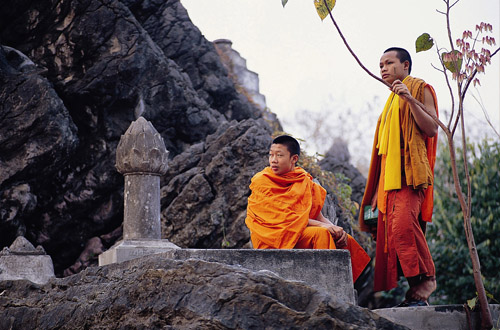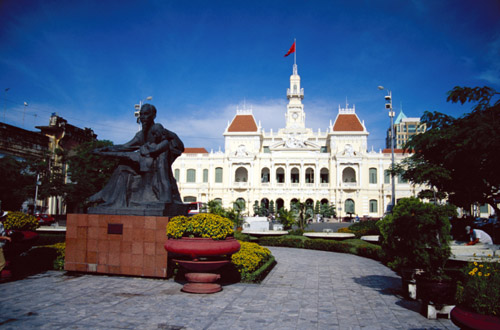 Introduction
Vietnam lies in the eastern-most part of South-East Asia.This long, narrow \'S\' shaped country runs 1650 kilometres from its northern border with China to its southernmost point which overlooks the waters of the South China Sea. At its narrowest point it is only 50 kilometres, east to west.The coastline, at over 3,000 kilometres in length, is one of the most under-developed in the entire region. Exotic beach retreats are sprinkled liberally along the central and south central areas bordered by pristine beaches and age-old settlements. On its western extremes Vietnam is bordered by Laos and Cambodia. Vietnam has suffered greatly through its long, turbulent history. Internal conflicts and territorial disputes with its regional neighbours, as well as occupation by colonial powers intent on obtaining strategic and economic advantage in the region, have dogged its development. Only since the cessation of hostilities in the long drawn out American war in 1975 has the country been able to realise its full potential. Tourism to Vietnam came about slowly at first, but the industry has come on leaps and bounds during the last decade and Vietnam can now count itself amongst the most frequently visited destinations in the South-East Asian region. The country offers natural beauty and culture in abundance. Outdoor activities including sports, cycling and trekking all feature high on the tourism agenda. Vietnamese cuisine is a joy unto itself with Chinese, Thai and French influences apparent. Local produce is excellent with silk, lacquer painting, embroidery and ornate furniture all popular with visitors.
Places to Visit
Hanoi - The Vietnamese capital, located in the north of country. The city is a tourist gem, with superb colonial architecture originating from the French occupation, sitting side-by-side with the timeless traditions readily on view in the Old Quarter, with its maze of narrow lanes and alleyways alive with non-stop acticity. Hanoi is charmingly picturesque, with many lakes, shaded boulevards, public parks and impressive buildings, old and new.
Saigon (Ho Chi Minh City) - A large, modern city, located in the extreme south teeming with non-stop activity and life lived to the maximum. Markets, restaurants, colonial buildings and street-side cafes sit alongside over a thousand years of history. A truly exciting and rewarding experience.
Sapa and the North - A mountain retreat located in the extreme north-west, close to the Laos and China borders. The area enjoys a pleasant, high-country climate and is renowned for its stunning mountain scenery, terraced rice fields and its indigenous hill tribe population.
Halong Bay - a huge and expansive maritime National Park area located 3 hours west of Hanoi. Halong Bay is notable for its many limestone outcrops, which extend westwards and northwards towards the Chinese mainland. Many traditional wooden junk cruise vessels ply the waters of Halong Bay, visiting remote out spots, unpopulated islands and the unique floating fishing villages which are spread throughout the area.
Hue - Located close to the coast almost exactly midway between the extreme north and the the extreme south. Hue is an ancient colonial city famed for its impressive 19th century citadel, a symbol of the former Empire which ruled the region. The city is divided by the Perfume River along the banks of which can be found the many tombs of former emperors, with their tranquil courtyards and graceful shrines. With a few exceptions, Hue is an essentially modern city with some popular restaurants and night time venues located on its vibrant riverfront promenade.
Hoi An - A beautifully preserved fishing settlement, with UNESCO World Heritage status, located about three hours to the south of Hue. Hoi An is close to many of the ares popular beach side resorts and the town itself is a living museum, featuring colourful shop houses, markets, cafes and restaurants, many of which front the lively lagoon.
Getting to and Travelling around
Vietnams main international gateways are Hanoi (Noi Bai International airport) in the north, and Saigon/Ho Chi Minh City in the south. Flights from the UK are operated by Thai Airways and Vietnam Airlines amongst others. Da Nang in the central area also has international arrivals, essentially from Vietnam\'s regional neighbours.
The transfer time into Hanoi takes about 60 minutes. To Saigon about 30 minutes. Taxis are readily available and both city centres are compact enough to allow them to be explored safely on foot.
Best Time and Weather
The Vietnamese climate is tropical in the south, and sub-tropical in the north. The rainy season extends from May until October in the north and May until November in the south. The north experiences two distinct seasons, summer and winter with temperatures ranging from 17º C to over 30º C. In the central region the rainy season extends from September to January. The rest of the year is almost totally dry. The south has two seasons, wet and dry with June to August being the wettest months.
Important Information
Passports - British passport holders require a visa, available in advance by application to the Embassy of Vietnam. The visa is valid for stays up to 30 days. A minimum six month validity is required on the passport.
Health - Yellow fever immunisation essential if arriving from an infected area. Hepatitis A and B, polio and typhoid are recommended. Precautions against dengue fever, Japanese encephalitis and malaria are advised. Please consult your GP for up to date information.
Currency - Dong. US dollars and US dollar travellers cheques are widely accepted. Old, damaged or torn notes will not be accepted. Credit cards are becoming more widely acceptable in Hanoi and Saigon where some ATM facilities are also available.
Time - GMT +7 hours.