Chang Mai and Chiang Rai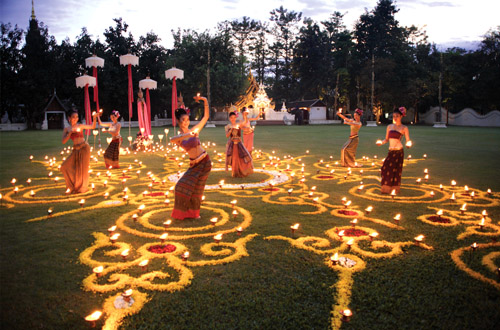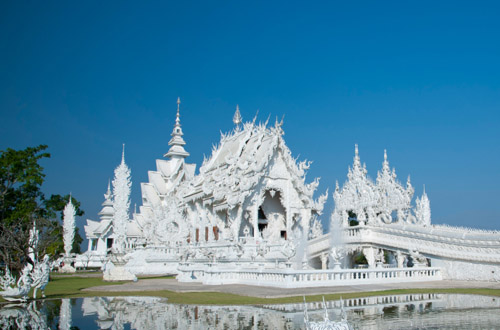 Introduction
Two peaceful and rejuvenating Northern retreats. Chiang Mai, Thailand\'s second city, seems almost village-like after the hustle of Bangkok. The old city is surrounded by an ancient moat with much of the walled enclosure still intact. Tourist and dining attractions and excellent nightlife exist in profusion along with a range of superb antiquities. A major draw for most visitors is the city\'s ever-present night market with its many bargains readily on show. Lying to the north-east of Chiang Mai, the settlement of Chiang Rai is a semi-remote regional gateway to the Golden Triangle region which borders Laos and Burma. Chiang Rai is home to hill-tribes, colourful markets, scenic trekking excursions, stunning vistas and many working elephant camps offering elephant trekking opportunities in which the visitor can participate.
Places to Visit
Chiang Mai


Night Bazaar - call it famous or infamous, the Night Bazaar is one of Chiang Mai\'s major attaractions. Row upon row of street vendors and shop keepers offer an endless variety of Northern Thai trinkets, designer goods, replica watches and handbags galore. Popular items include hill-tribe crafts, handmade bags, lacquer-ware, woodcarvings and silk items. The market operates 365 days a year from 4.00pm to midnight and is located on the eastern side of the city about 10 minutes from the moat surrounded central area but close to many of the main hotels
Walking Streets - a relatively recent addition to Chiang Mai\'s street scene and a more laid back alternative to the Night Bazaar. Two walking streets are in operation, one on Sunday running the length of Ratchadamnoen Street, the other on Saturday on Wualai Street. Items on display are similar to those found in the Night Bazaar but the settings are a good deal more scenic and relaxed.
The Temples and Wats of Chiang Mai - amongst the most prominent are Wat Phra Singh, Wat Chedi Luang, Wat Chiang Man, Wat Phan Tao, Wat U Mong, Wat Suon Dok, Wat Ku Tao, Wat Chiang Yuen, Wat Sisuphan and Wat Phak Hong. All are picturesque showcases of Buddhism and Northern Lanna-style architecture. A good guidebook and map is recommended for those wishing to explore in depth.
Chiang Mai National Museum - a vast collection of Lanna Buddhist artefacts, tools, weaponry and pottery.
Doi Suthep - One of the north\'s most venerated and sacred temple complexes, located about 10 miles northwest of the city. the temple is positioned on Doi Suthep peak with stunning views afforded over the city below. The temple is accessed via a 360 step staircase which leads to the inner courtyard.
Elephant Training Centre Chiang Dao - set amongst the surrounding forest in a riverside setting north of Chiang Mai, this is one of several in the area. A visit involves feeding the elephants, watching them bathe and be scrubbed down by their mahouts in the river and enjoying an elephant back ride through the surrounding forest. River rafting trips downstream can also be arranged from here.
Chiang Rai
Wat Phra Kaew - Chiang Rai\'s most revered  Budhhist temple, once home to the Emerald Buddha which now resides in Bangkok. A replacement image was commissioned in 1990 which can now be found in Haw Phra Kaew which is located to the rear of the compound.
Trekking - the area immediately surrounding Chiang Rai is amongst the best in the country for trekking. These can be arranged in advance or on arrival through one of the 30 plus operators based in the town. TAT-licensed operations are recommended. Areas covered include Doi Tung, Doi Mae Salong, and Chiang Kong.
Getting to and Travelling around
By Air - International and domestic arrivals fly into Chiang Mai International Airport. Prominent airline partners include Thai Airways, Bangkok Airways, Air Asia, Silk Air, Mandarin Airlines, Lao Airlines and Air Mandalay. 
Getting Around - Taxi services, and public bus services serve Chiang Mai airport, linking it with the city centre. Metered taxis and Tuk-tuks are readily available in the city centre and nearby surroundings. Cycles and motorcycles for available for hire from reputable locations in the city.
Best Time and Weather
North Thailand has three distinct seasons:
The Hot (Summer) Season extends from March through May. Daytime temperatures can be unbearably hot during this period.  
The Rainy Season, from May through October.
The Cool (Winter) Season, from November through February.
With regard to weather, the most pleasant time to visit the north is the cool season between November and February when rainfall is negligible, humidity is relatively low, and temperatures are mild (warm days and cool nights).
Important Information