Thailand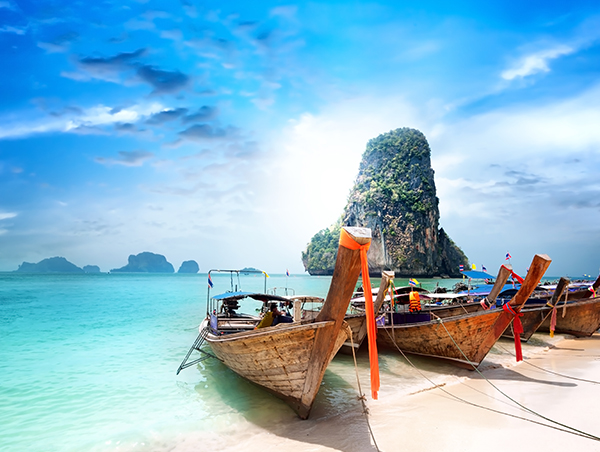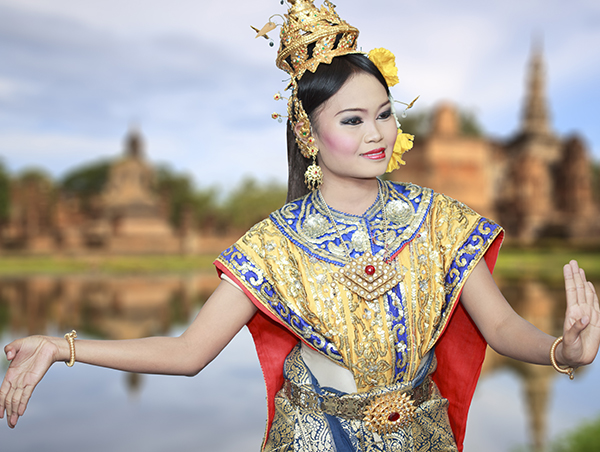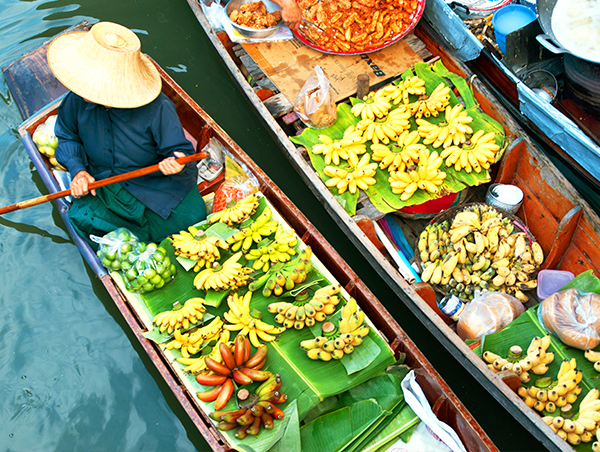 Thailand is one destination that you definitely won't want to miss from your Asian travel itinerary. You can do it all here – from soaking up the rays with a Pina Colada on the beaches of Phuket or trekking through the mountainous region of Chiang Mai, to bartering in the bustling Bangkok markets or partying hard at the Full Moon Party in Koh Phangan. Whether your vice is shopping, partying, sunbathing, the outdoors, eating or site seeing you'll be able to indulge yourself in Thailand – and at a price which is very easy on the pocket.
Check out our list of places to see/visit in Thailand, including tourist attractions in Thailand and all the best places to go sightseeing in Thailand. This is just a taste of what this great country has to offer!
Bangkok
All too often just a place of transit but it's well worth taking a few days to explore Bangkok. There are countless things to do and you'll find extraordinary people and places to visit around every corner. Barter for all sorts of goodies at the largest outdoor market in the world, the Chatuchak weekend market, or get along to MBK, an air-conditioned shopping haven. The King's Palace is also well worth a visit, along with any number of temples including Wat Pho and the Temple of the Dawn.
Phuket
Dubbed the 'Pearl of the Andaman', Phuket remains one of the most popular beaches for tourists – and with good reason. Beautiful white sand, palm trees, and clear blue water create a great atmosphere for some prime R & R. Get away from the hoards in Patong and head along to one of the gems of Phuket – the beaches of Kata or Karon. There is plenty to see in Phuket – jump on one of the day tours (deep link to a tour) to explore the islands and caves, go diving, visit the wildlife sanctuary or simply grab a table at a restaurant to sample the delish seafood.
Chiang Mai
Situated in Northern Thailand, Chiang Mai is quite a mountainous region and great for those more adventurous travellers keen to trek through forests, visit waterfalls and discover the wildlife. Jump on a tour to visit a hill tribe – including the long neck Karen tribes in a nearby province. Your visit to Chiang Mai isn't complete until you've paid a visit to Doi Suthep – Chiang Mai's famous temple situated high in the mountains and giving you a great view of the city in the distance. If you're feeling fit there are 290 steps to take you to the temple – or you can take a rail car.
Krabi
A rock climber's heaven, you'll find stunning limestone cliffs and rock formations in Krabi. You should also head along to the National Park located about 40 km outside of town to be at one with nature and soak up the rivers, caves and amazing natural scenery. Krabi is also home to some great beaches including Ao Nang and Hat Rai Le, which offer numerous diving trips, restaurants and shops.
Koh Samui
Despite the fast pace of development, Koh Samui has been able to maintain its image of a tropical beach resort fringed by coconut trees. Hit the beach or tour the surrounding islands by day and sample the bars and clubs at night. Koh Phangan, home to the full moon party, is also only an hour away by boat, making Koh Samui a great place to take a break from the craziness.
Travel to Thailand is easy with flights to Bangkok's Suvarnabhumi airport leaving daily and a wide choice of airlines to get you there. Chiang Mai, Phuket and Hat Yai airports also have immigration facilities and a small number of scheduled international flight arrivals.
Thailand airports
Suvarnabhumi airport
Bangkok is home to two airports. The new airport, Suvarnabhumi, opened in 2007 and is located in Racha Thewa around 30 kilometers east of Bangkok. There are various forms of transport to and from this Bangkok airport including shuttle bus, public bus and car rental. Usually the higher end hotels will send a representative to meet you at the airport but most visitors take a metered taxi – there is a 50 baht airport surcharge on top of your fare (which should only be a few hundred baht) plus you'll need to pay express way fees. The journey is usually 40 minutes to an hour depending on your destination.
Don Muang airport
Some domestic flights still operate out of the old international airport, Don Muang (24 kms north from Bangkok), so check your ticket carefully so you're definite about which airport you should be at. The same transport options exist out of Don Muang as they do at Suvarnabhumi and the travel time is slightly less.
Phuket airport
Phuket Airport is one of the busiest outside Bangkok. You can get a cab, mini-bus or public bus to your destination. Average taxi fares from the airport are a little more costly than the other airports – around 400 baht to Phuket (30 minute journey), 550 baht to Patong (40 minute journey) and 650 baht to Kata/Karon (around a one hour journey).
Chiang Mai airport
Chiang Mai airport is 10 minutes from the city centre and there are taxis, songteaws (an open-back taxi truck) and tuk-tuks ready and waiting. A taxi trip will cost around 120 baht to most destinations in the city. Many hotels will arrange free transfer to and from the airport so check with your hotel to see if they provide this service.
How to get around
Travel in Bangkok
There are tons of Thailand transport options to suit all budgets and comfort levels – if you're travelling through Bangkok the sky train is an excellent way to get around – both cheap and fast (avoid that traffic!). Otherwise you can jump in a taxi (make sure you ask for the meter to be turned on, otherwise risk paying an inflated price) or there are plenty of tuk-tuks to take you on a fun ride. Be sure to agree on the price before heading off and ask for a direct route or you may find you make some unscheduled stops where the driver will collect commission – this goes for both tuk-tuks and taxis. Another novel way to see the city is to jump on an extremely cheap public bus, or head down to the Chao Phraya River and get on a tourist boat or river taxi.
Travel outside of Bangkok
Travel outside Bangkok by flying into one of the domestic terminals, or take a train or bus if you're on a budget. You can jump on a boat to get across to the islands, and once you are there, hire a motorbike, jeep or push bike, or catch a songthaew. If you're going to hire a motorbike make sure a helmet is included and cover up if you can - motorcycle accidents and injuries are so common that in Koh Phangan for example, the characteristic road burn is known as a 'Koh Phangan tattoo.'
Thailand has a tropical climate and as such temperatures are fairly constant year-round. Generally speaking, the most temperate time to visit is between November and February when the weather is sunny, warm and dry with lower humidity. The average is around 30°C during the day with nightie lows of around 20°C. The evenings are cooler during this period in northern destinations such as Chiang Mai, Chiang Rai and beyond where it can drop to around 12°C or lower. Temperatures and relative humidity rise sharply between March and May, by which time the heat during the day can be quite taxing in Bangkok. Most of the rainfall occurs between June and September, but it is not unduly excessive and by no means constant. The days can be sunny and dry during this time and equally it can also rain heavily during the November to February period.
Thailand fast facts
Population

65,000,000




Languages spoken

Thai




Time zones

GMT + 7 (Indochina Time)

Currency

Name: Baht

Code: THB

Symbol: ฿




Country dialling code

+66




Weights & measures

Metric
Thailand visa requirements
Get all your Thailand work and tourist visa information right here! Whether you're wanting to go on holiday or you're keen to work or volunteer you'll find all you need to know before you go about Thailand visa requirements.
Thailand holiday visa
Your nationality will determine whether you need to get a visa and how long you can stay. Citizens from a large list of countries including New Zealand can visit Thailand visa-free for up to 30 days – plenty of time for most. For longer stays you should apply for a tourist visa from Thai immigration allowing you remain in the country for up to 60 days.
Working holiday visa
Thailand doesn't offer a working holiday visa but there are still plenty of opportunities to immerse yourself in the local culture – including volunteering on community and environmental projects. There are plenty of projects which need you! Whether you're keen to do your bit for the environment or want to help the people of this South East Asian country, there is volunteer project in Thailand for you.