Krabi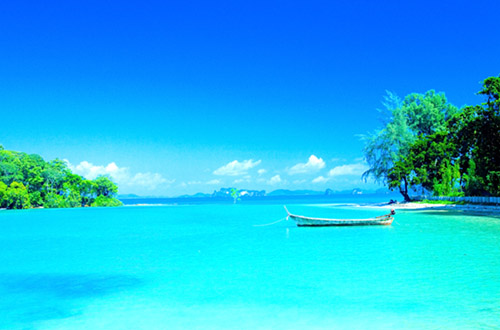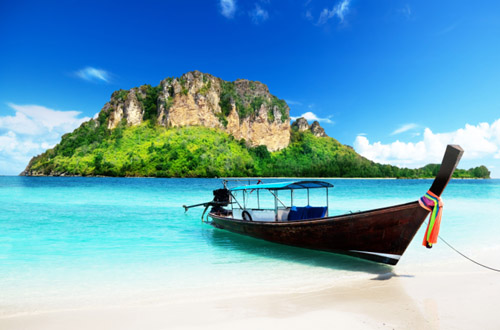 Introduction
Located on southern Thailand\'s east coast, Krabi province boasts some of the most beautiful natural scenery in South-East Asia. Virgin beaches overlook the Andaman Sea and the eerie limestone karst landscapes of the surrounding marine national park. The coastline is dotted with rarely visited tropical islands, palm fringed beaches, waterfalls, caves, and strange rock formations. A late developer in the tourism sense, development in Krabi has been carefully controlled with restriction imposed on the scale of construction but with a broad range of prestigious accommodations ranging from boutique beachside retreats to 5-star luxury resorts. The main area of tourism focus is around the beach areas of Ao Nang, Rai Ley and Phra Nang. Krabi is built for relaxation. The pace is slow with many of the areas resorts only reachable by boat. Understandably, given the areas splendid natural beauty, much of the province has been designated national park. The Hat Noppharat Thara-Ko Phi Phi National Park incorporates many of the mainland beaches, over 80 smaller islands and the Phi Phi islands - famous for its role in the film 'The Beach\'. Ko Lanta National Park to the south of Krabi township, includes several coral-fringed islands, prime diving sites and remains largely unspoilt and underdeveloped.
Places to Visit
Railay Beach - Railay is one of Thailand\'s most sought-after beach areas. Just south of Ao Nang Beach, around a rocky headland and accessible only by boat. Popular with rock-climbers and day trippers from Ao Nang.
Krabi Islands - There are around 200 islands around the Krabi coastline, many are small rocky outcrops that rise precipitously out of the sea. Others are larger, with characteristic tiny white sand beaches, coral reefs, and intricate cave systems, all are worth a look and a visit, the most popular being Chicken Island and Koh Poda.
Thung Teao Forest - Krabi is well-known for areas of outstanding natural beauty and principal amongst these is the Thung Teao Forest National Park, an unusual lowland forest rich in bio-diversity, complete with a nature trail and a crystal lagoon.
Phi Phi Islands - The Phi Phi Islands are some of the most picturesque in Southeast Asia. Â These picture postcard islands offer the ultimate tropical getaway. The waters surrounding Phi Phi are a popular choice for scuba enthusiasts.
Koh Lanta - Koh Lanta consists of 52 islands including the largest, Koh Lanta Yai. Located 70km south of Krabi Town. Koh Lanta\'s scenic beauty may not quite compete with some other areas in the province. Low key development and unspoiled nature are Lanta\'s main attractions.
Krabi Town - Krabi Town is charming, laid back, and very provincial. Â Its unique personality is a welcome contrast to the surrounding beach areas, and for those interested in a dose of genuine Thai culture and hospitality.
Getting to and Travelling around
By Air -Â 
Krabi International Airport (KBV) is about 15 km from the city centre, 40km from Ao Nang and 23km from Had Yao. Daily flights are available from Bangkok. Â Destination Air Shuttle, Thailand\'s only Seaplane service also routinely flies in and out of Krabi (Ko Lanta) from Phuket and to the numerous outer islands.
Getting Around -Â 
Taxis and local Buses - Open-air buses, converted trucks (songtaews) and motorcycle taxis provide a cheap and efficient public transport service throughout the province.  Services are efficient and regular with buses stopping wherever you want to get on or off. 
Ferries to Koh Phi Phi and Koh Lanta -Â From Krabi Town -Â Ferries operate to the Phi Phi Islands, Jum Island and Lanta Island. Some services are suspended during the monsoon season (May-October) and are substituted by a combined bus and long-tail boat system which operates from small harbours along the coast.
Longtail Boats
-Â The coast is well served by local \'longtail\' taxi boats. Fast, reliable and inexpensive, these boats depart from Ao Nang Beachfront to Railay, Phra Nang and Krabi Town.
Best Time and Weather
The best time to visit Krabi is between November and April when the dry north-easterly winds prevail. From May to October the monsoon arrives, rainfall increases and can be heavy at times, influenced by the moist south-westerly winds. 
Important Information